Hey,
Welcome to another fun
Retro Rubber
challenge.
Well wasn't that a fun 100th celebration?!
A big thanks from me and the whole team to all of the people that joined in the fun and left comments on our blogs.
The winner of my giveaway is
Angel North
(http://daringcardmakers.blogspot.com/). Congrats - Angel, use the contact me form on the right hand side of my blog to send me your address details - I'll be back on 10th of December and will post your package then.
This is our last challenge of the year and in spirit of the season we are wishing you Happy Holidays with this theme -
I went a bit off piste, so to clarify, I used the snow, hat and scarf to inspire my card LOL.
I decided to go all non-traditional colours, as I was using a Flamingo stamp! The stamp is by Inkadinkadoo and I've had it since 2016, the whole set is a lot of fun and not really traditional, which might be why I love it so much. It is no longer for sale, so here's a photo for you.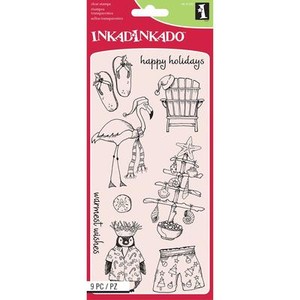 I dug out a sparkly tag from my enormous tag stash - if you don't know me that well, here's a bit of insight I am literally addicted to tags, I make my own using dies AND I buy them at any opportunity..if my Husband ever finds my stash, I swear he will divorce me!
I printed a piece of pink snowflake paper by Pink Petticoat that I have had for about 9 years..I love the subtle snowflakes peeking through. I cut it a bit shorter, so I could add a sparkly gold border to coordinate with the tag. Final touch was to add the sentiment from the same stamp set.
I love this overly girly Holiday card it makes me very happy.
Show us what the photo has inspired you to make and pop over to
Retro Rubber
and get inspired by the things the DT have made.
Challenge ends December 14th.
Don't forget to tell us the age of your stamp, that is part of the fun of our challenge and please only enter 10 challenges including Retro Rubber.
Cx